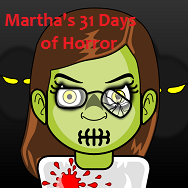 DAY 31...
HAPPY HALLOWEEN
KIDDIES!!!!
So, this is the LAST post
of Martha's 31 days of
HORROR.
Hope you've enjoyed it
as much as I have.
*******************************************
The last entry has to be special...
so... we look at the series of films
that have always held a special
place in my dark little heart...
*******************************************
stalks the children of the members of the lynch mob that killed him.
Um Nancy... with dream like THAT, I'd NEVER sleep!!!!
Tina seems to be having some problems.
Nancy takes a bath and Freddy's hand plays PEEK-A-BOO!
Only an idiot falls asleep in the bath... SERIOUSLY!
Yea, that's Johnny Depp. One of his FIRST ROLES EVER!
Uh oh... Bye Bye Johnny Depp... who plays GLEN.
Freddy's Dating Service... he kills your boyfriend...
then he assumes the position.
Nancy:
I know you're there Freddy.
Freddy Krueger:
You think you was gonna get away from me?
Nancy:
I know you too well, Freddy.
Freddy Krueger:
Now you die.
Nancy:
It's too late, Krueger. I know the secret now.
This is just a dream. You're not alive. This whole thing is just a dream.
[she turns around and faces him]
Nancy:
I want my mother and friends again.
Freddy Krueger:
You what?
Nancy:
I take back every bit of energy I gave you. You're nothing. You're shit.
*******************************************
A teenage boy is haunted in his dreams by Freddy Krueger
who is out to possess him to continue his murdering in the real world.
That's gonna leave a mark.
Kiss Freddy???? I would... but she's only doing it
cause Jessie's trapped in there. I'd do it just to kiss
Freddy Krueger. LOL. I know... sick.
Happy... riding on the bus. They think it's over...
BUT...
*******************************************
Survivors of undead serial killer Freddy Krueger -
who stalks his victims in their dreams -
learn to take control of their own dreams in order to fight back.
Nightmare on Elm Street (the original)... she's back to
help the children of Elm Street control their dreams.
Freddy plays PUPPET MASTER... and this TOTALLY
grossed me out... but it was a cool effect!
Laurence Fishburne ain't too happy...
BEST LINE EVER!!!!!!!!
We are introduced to Amanda Krueger...
Freddy's mother who warns the Doctor
about her son and how to destroy him.
Freddy does body art... nice.
The Freddy Snake... awesome.
Kincade, you shouldn't have said that.
Meanwhile the Doctor is racing against time to
put FREDDY to rest as Amanda Krueger told him to
Ends up fighting a SKELETON version of Freddy...
which was/is SUPER AWESOME!!!!
There may be 3 survivors of this ordeal but as long as
there are SURVIVORS and ELM STREET KIDS..
Freddy isn't too far away.
*******************************************
Freddy Krueger returns once again to terrorize the dreams
of the remaining Dream Warriors, as well as those of a young woman
who may know the way to defeat him for good.
Say what you want but Freddy's got style.
*Sings* Freddy Krueger was Kung Fu Fighting
That glove is fast as lightning
Freddy Krueger:
Wanna suck face?
Sheila Kopecky:
No!
This was so ... ugh. Gross. The cockroach transformation.
[battling Alice in the dream church]
Freddy Krueger:
You think you've got what it takes?
I've been guarding my gate for a long time, bitch.
*******************************************
Alice, having survived the previous installment of the
Nightmare series, finds the deadly dreams of Freddy Krueger
starting once again. This time, the taunting murderer is striking
through the sleeping mind of Alice's unborn child.
His intention is to be "born again" into the real world.
The only one who can stop Freddy is his dead mother,
but can Alice free her spirit in time to save her own son?
Alice has bad dreams... and wakes up next to ...
ROBERT ENGLUND... oh yea, I'll trade places. HAHAHA!
You are all gonna die, don't you KNOW that? stupid kids.
Alice witnesses Freddy being "RE-BORN" in the dream world.
Alice then dreams of this little boy named JACOB.
Soon after... she is told she is pregnant.
Mark Gray: [as The Phantom Prowler]
Time to die, you scar-faced limp-dick.
[fires a bunch of times until Freddy changes]
Super Freddy:
Faster than a bastard maniac!
More powerful than a loco-madman! It's... Super Freddy!
[changes back to normal, turns Mark into paper and slashes him]
Freddy Krueger:
Told you comic books was bad for ya!
Um Alice... I don't think becoming PART of Freddy is a good idea.
Amanda Krueger:
Jacob! Jacob!
Alice will not triumph! Only you can help her now.
Jacob: [looking like Freddy]
Hey, leave her! Let's go!
I want to learn stuff from you. She's no fun anymore. Teach me? Heh.
Amanda Krueger:
Now, Jacob. Unleash the power he has given you.
Jacob: [looking back at Freddy after he sees
that he has fallen into Amanda's trap]
School's out, Krueger.
*******************************************
Freddy Krueger returns once again to haunt both the dreams
of his child and Springwood's last surviving teenager(s).
We meet counseler Maggie.... who wants to help JOHN DOE
REMEMBER who he is... but then we find out... John Doe isn't
who he THINKS he is...
So they travel to Springwood...
Oprah Noodlemantra:
All right. Once again. This is your brain.
[Cracks egg]
Oprah Noodlemantra:
This is your brain on drugs. Questions?
[Freddy hits him with the frying pan]
Freddy Krueger:
Yeah! What are you on?
Looks like a frying pan and some eggs to me.
Yes that IS Johnny Depp... in a brief and funny cameo.
We enter inside Freddy's Mind with Maggie and see Freddy's Past...
Alice Cooper's Cameo as Freddy's ABUSIVE Step-Father
Robert Englund... yummie! Sadly he killed Maggie's
mother cause she saw what Freddy had in the basement.
When the Elm Street Parents went to kill Freddy these
Demons tempted him with the power of the dream world...
of course, Freddy said YES!
Freddy Krueger:
Go ahead... put it on. It's in your blood.
That's it. Put it on. Feels good, doesn't it? Yeah... come on.
Let your daddy show you how to use it.
[Maggie slips on the glove and stabs Freddy in his stomach]
Tracy:
Maggie! Maggie!
[Tracy tosses her a stick of dynamite and Maggie
shoves it into Freddy's chest. She kisses Freddy on the cheek]
Maggie Burroughs:
Happy Father's Day.
[runs out of the room]
Freddy Krueger: [looks at the screen]
Oh... Kids.
[Freddy explodes]
*******************************************
A demonic force has chosen Freddy Krueger
as its portal to the real world.
Can Heather play the part of Nancy one last time
and trap the evil trying to enter our world?
Heather plays Heather... how original.
Freddy is haunting her... at least by her
memories of being in the Nightmare Films...
yet she goes to apperences ... but then her son
starts acting strange...
Robert Englund as the yummy, delicious... Robert Englund.
Heather's son is possessed.
Always.
Don't look behind you... I think it's Freddy.
This movie offers a DARK Freddy...
yet it really isn't THAT great.
It has SOME moments that feel
almost NOES-ish. but otherwise
it's kind of a bore... only for FANS
of the series who "get" it.
*******************************************
Freddy Krueger and Jason Voorhees return to terrorize
the teenage population. Except this time, they're out to get each other, too.
So... Jason's doing his thing except he's
actually dead in the ground... and DREAMING...
Suddenly... his mother appears to him...
So Jason gets resurrected... then goes on a killing spree...
Damn that's gonna leave a mark.
Freddy's Puns ... always DELIGHTFUL
Freddy as a Pot Smoking Worm... interesting.
In the real world now... it's showdown time.
Fear???? NO FREDDY .. NO FEAR!
Kia Waterson: [to Freddy]
So you're the one everyone's afraid of?
Tell me something.
What kind of faggot runs around in a Christmas sweater?
I mean, come on, get real. You're not even scary.
[taunting him]
Kia Waterson:
You're not even scary.
And let's talk about the butter knives. What is with the butter knives?
You trying to compensate for something?
Maybe coming up a little short there between the legs, Mr. Krueger?
Freddy Krueger:
Hmmm.
Kia Waterson:
I mean, you've got these teensy-weensy little things
and Jason has got this big old thing and like...
[Freddy points behind her, she turns,
and there is Jason standing right in front of her with his machete]
Jason won? ... wait... Freddy ain't done...
*******************************************
*******************************************
A re-imagining of the horror icon Freddy Krueger,
a serial-killer who wields a glove with four blades embedded
in the fingers and kills people in their dreams, resulting in their real death in reality.
The new Freddy played by Jackie Earle Haley
A similar scene remade just like the original... not too bad.
Freddy's always got a thing for PIPES.
He looks more Krueger here...
The blood scene... not too bad... but I still like the original.
Another similar scene ... not much difference
hard to mess this scene up.
Freddy Krueger: [to Nancy]
You can't hurt me.
This is my world. And you can't ever leave.
Jackie Earle Hayley... without the makeup as Freddy.
He doesn't look bad as Freddy here... but that makeup
is MESSED up... it doesn't REMOTELY look scary.
*******************************************
*******************************************
NEVER SLEEP AGAIN
4 hours long... it takes you down the road
of all the Nightmares (excluding the Remake).
It includes behind the scenes, pictures,
and also stories from the mouth of the stars...
including ROBERT ENGLUND himself!
Check it out. Seriously.. it is awesome.
One of the BEST ... no... THE BEST
DOCUMENTARY I have ever watched
especially pertaining to anything HORROR related.
*******************************************